Vertical manual operation 500kg wood steam generator
1. Introduction of Vertical Biomass Wood Fired Steam Boilers:
Biomass pellet boiler is designed and developed based on the introduction of foreign advanced combustion technology in combination with my country's actual conditions. It has the characteristics of reasonable structure, large heating area, high thermal efficiency, full combustion, no pollution, and low emissions. It adopts mechanical motor screw automatic feeding device to realize mechanized fuel supply, and is equipped with flue gas recovery energy saver. It is the best product to replace electricity, oil, gas and coal-fired steam boilers. Biomass boilers have low operating costs, which can save 40%-60% of operating costs compared to oil, gas, and electric heating boilers. It is a high-efficiency, energy-saving and environmentally friendly thermal energy equipment.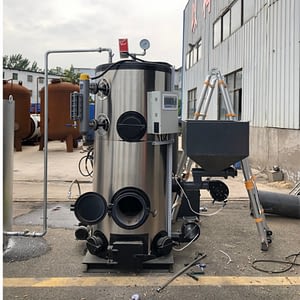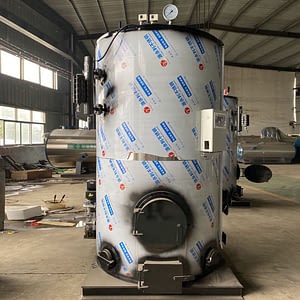 Product features:
*Reasonable structure, advanced technology, less floor space, small volume, beautiful appearance, high thermal efficiency, significant energy-saving effect and economic benefit. Compared with similar foreign products, the structure has some advantages.
*Reasonable layout of heating surface and long service life.
*Due to the design layout, the flue gas stays in the furnace for a long time, and the air distribution is reasonable, so that the carbon particles are fully burned and the nitrogen oxide emissions are reduced. 4. Due to the special structural arrangement, the main body of this horizontal biomass pellet fuel steam generator runs in the whole steam process, and the working medium is all steam-water mixture, so the steam production is fast and the steam pressure is high. The steam pressure is below 0.4MPa, there is no danger in the operation process, and it is completely reliable.
*The design of combustion chamber and secondary air. The furnace adopts an energy-saving furnace arch that is integrally poured with heat-resistant concrete, which improves the fuel ignition conditions. It adopts an independent air chamber and rationally distributes the air, so that a combustion-friendly furnace is formed in the furnace. The aerodynamic field strengthens the combustion, resulting in high combustion temperature and high combustion efficiency (95%).
2. Design Parameters
Rated Steam Pressure(MPa)

WARM TIPS:
As place limited, we do not list all boiler models. Need other boiler, please contact us for boiler specifics and quotation.
3. Fuel
The fuel of biomass steam boiler is modern clean pellets, namely biomass pellets and biomass briquette, which are compressed and molded from straw, wood chips, sawdust, peanut shells, tree branches and leaves, hay, straw, rice husks, etc. Compared with traditional automatic stoves such as electricity and fuel (gas), it saves more than 35% of operating costs. During normal combustion, smokeless combustion achieves low emissions of carbon dioxide, sulfide, and nitrogen oxides, and the concentration of soot and gas emissions meet or exceed the national environmental protection standards.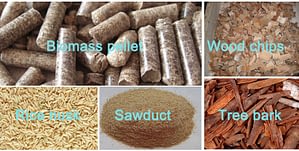 4. Application
Vertical biomass steam generator application areas: Food machinery industry: cooking pots, jacketed pots, pasteurization, thawing machines, fumigation machines, blanching, cleaning lines, tofu machines, steamers, sterilizers and other steam equipment.
Washing and ironing industry: dry cleaning machines, dryers, washing machines, dehydrators, ironing machines, irons and other equipment.
Biochemical industry: fermentation tanks, reactors, mixers, incubators, coatings, etc.
5. Transportation
Transportation to describe(biomass pellet heating steam generator): Boiler body and large auxiliary equipment (platform, chimney, economizer, etc.) are naked or bundled during transportation. The smaller auxiliary equipment is packed in high-strength wooden or plywood boxes. Products can be transported by ship or train, customers can specify the port. When necessary, small auxiliary aircraft can be transported by air.
6. Our services
Pre-sale services
Act as a good advisor and assistant of clients; enable them to get rich and competitive from the returns of their investment.
1) Select suitable equipment model.
2) Design and manufacture products according to clients' special requirements.
3) Train technical personnel for clients.
4) Professional suggestion for customer.
After-sale services
Provide considerate services to minimize clients' worries.
1) Provide civil engineering drawings of the equipment.
2) Free training(including installation,maintenace) to every customer.
3) Install and debug the equipment, ensure the dryer running smoothly.