1.Features of Gas / OIl Fired Steam Boiler
It uses the most mature three-pass all wet back structure in the world. which safe and reliable. The use of waveform furnace can strengthen disturbance of smoke, increasing the heat transfer area of radiation, which can not only enhance the heat transfer effect, and also promote oil combustion in the furnace, the entire heating surface is in symmetrical arrangement with strong structure and reasonable system of water cycle. The water capacity in steam drum is large, with large steam room and quality steam and small fluctuations of water level in running. The unique setting of hearth and scouring way of smoke surface reduce the boiler heat loss to be minimal.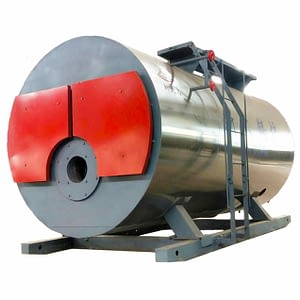 Sweeping function after preset can improve working conditions of burner and extend its service life.
The unique design of the large burning chamber can increase the radiation of hearth heating area and reduce the volume of the boiler and NOx emissions.
Smoke pipes box around boiler uses multi-level sealing approaches, which is easy for maintenance of the smoke box.
Horizontal stricture has area ample heated and adequate heat transfer, the boiler is stable in running when load changes, and combustion efficiency is high. Furnace pipe is arranged low with a large range of water level safety. Steam evaporation surface is large, with high quality steam.
It is equipped with advanced touch screen controller, digital prosecution system to achieve automatic control of boiler operation, with a variety of alarm interlock devices to ensure efficient, safe, reliable operation of the boiler.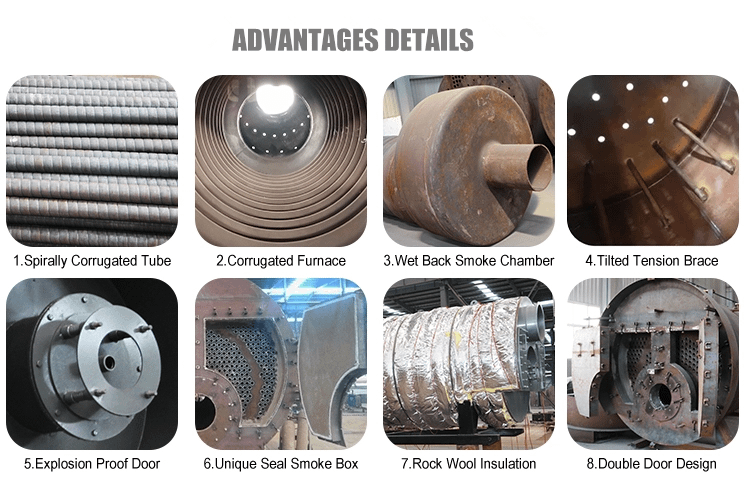 2. Technical Data of  1000kg Gas / Oil Fired Steam Boiler
1 ton gas / oil fired steam boiler include the light diesel oil boiler, natural gas boiler,liqufied gas boiler (LPG boiler),pipeline gas boiler, LNG boiler ect, the followings are details data about 1 ton boiler.
Boiler Model
WNS1
Rated Steam Capacity (kg/H)
1000
Rated Steam Pressure (Mpa)
0.7 / 1.0 / 1.25 / 1.6
Rated  Steam Temperature(℃)
174 / 184 / 194 /204
Thermal Efficiency(%)
>98
Main Steam Valve Diameter
65
Safety Valve Diameter
50
Infall Diameter
25
Sewage Valve Diameter
40
Chimney Diameter
300
Fuel Consumption
Light Diesel Oil (kg/h)
64
Natural Gas(Nm³/h)
80
Liquefied Gas (Nm³/h)
30
Pipeline Gas (Nm³/h)
170
Weight (T)
6
Size (mm)
(L*W*H)
3675*1800*1985
3.Boiler Auxilaries
Xinda boiler still offer cusomers high-level boilers and boiler anxilaries,we also support customized service.
4. Boiler Installation Flow Chart
xinda boiler factory will offer customers installation service all the world.
5. Installation & Delivery Pictures Of Oil / Gas Fired Boiler
xinda boiler have been sent to more than 50 countries and areas, it has good reputation in China and abroad.
6. After Sales Service
Xinda boiler all workers will still try the best to offer customers' best service.