1.Characteristics Of  3kw Electric Steam Generator
High quality steam can be produced continuously in a short time.
Reasonable design structure can be conducive to installation, operation and energy saving.
The shell is made of high quality steel with high strength and corrosion resistance.
High pressure vortex pump, short water supply time, durable.
It can be used for steam flushing and heating.
The whole machine leaves the factory, users only need to install pipes, instruments, valves and other accessories, can be used.
2.Technical Data of 3kw Electric Steam Generator
| | |
| --- | --- |
| Boiler Model | LDR-3 |
| Rated Steam Capacity | 6kg/h |
| Rated Steam Pressure | 0.4/0.7Mpa |
| Heat Up Time | In 5 minutes |
| Power Supply | 220/380V  50Hz |
| Electric Power | 3kw/h |
| Water Tank Volume | 18L |
| Efficiency | 98% |
| Size | 410*680*820mm |
| Packing Size | 410*680*1000mm |
| Shipping Weight | 50kg |
3.Security About 3kw Electric  Steam Generator
XINDA Steam generator fitted with a safety valve by boiler inspection institute, even in the case where the control system is not flexible, when the pressure exceeds the set pressure, safety valve will open automatically to prevent the boiler explosion due to excessive pressure.
The Boiler is equipped with low water protection, when water supply is stopped, the boiler will automatically stop working, to prevent the boiler dry electric heating element damage and even lead to burnout phenomenon.
The Boiler contains leakage protection, even in the case of a short circuit caused by improper operation of the boiler, the boiler will drain automatically cut off the circuit, timely good control lines.
4.Application of  Portable 9kw Electric Steam Generator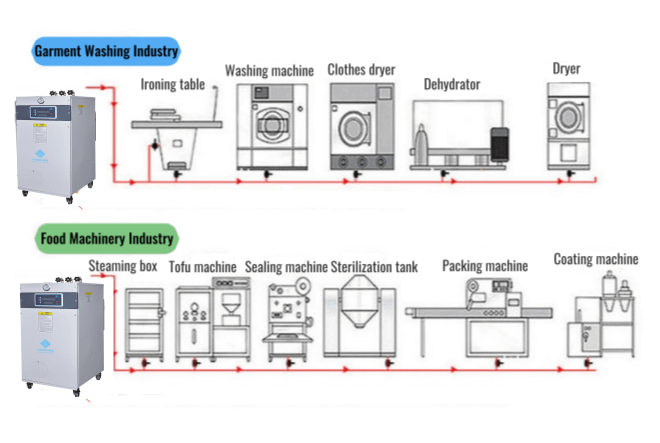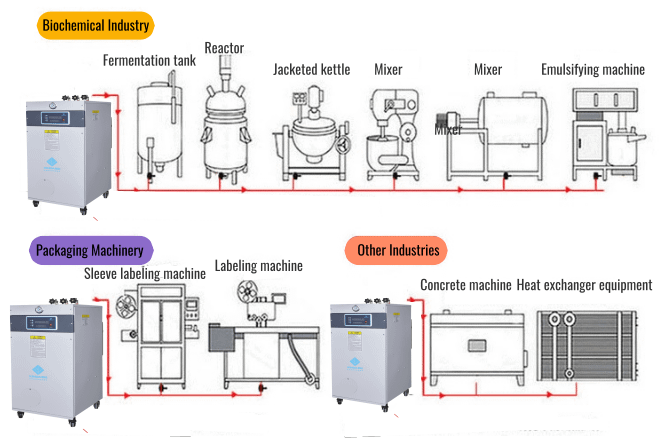 XINDA Electric Steam Generator Application:
Clothing washing and ironing industry: dry cleaners, dryers, washers, dehydrators, ironing machines, irons and other equipment supporting the use.
Food machinery industry: tofu machine, steam box, sterilization tank, packaging machine, coating equipment, sealing machine and other equipment supporting the use.
Packaging machinery industry: labeling machine, label machine supporting the use.
Biological chemical industry: fermentation tank, reaction kettle, sandwich pot, blender, emulsifier and other equipment supporting the use.
Other industries :(oil field, automobile) steam cleaning industry, (hotel, dormitory, school, mixing plant) hot water supply, (bridge, railway) concrete maintenance, (leisure and beauty club) sauna bath, heat exchange equipment, etc.
5.Picture of  3kw Electric Steam Generator