1.Characteristics Of 6kw Electric Steam Generator
Novel and elegant appearance – suitable for deep and narrow small places.
Universal wheels with a brake – move freely.
Large space in inner furnance, pure saturated steam without moisture – stable good performance.
Copper mechanical ball float valve used – automatic detects and controls the water level of inner furnance, effectively prevent dry heating – ensures safety and prolongs service life time of heating tubes and inner furnance.
Regardless of water quality,pure water can be used, long service life time with easy maintanance.
Double superior seamless stainless steel heating tubes used – power adjustable according to requirement.
Double safety guarantee – adjustable pressure controller and machanical safety valve.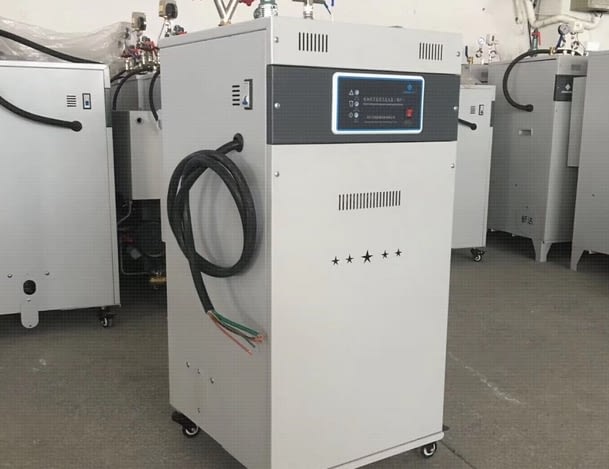 2.Technical Data of 6kw Electric Steam Generator
| | |
| --- | --- |
| Boiler Model | LDR-6 |
| Rated Steam Capacity | 8kg/h |
| Rated Steam Pressure | 0.4/0.7Mpa |
| Heat Up Time | In 5 minutes |
| Power Supply | 220/380V  50Hz |
| Electric Power | 6kw/h |
| Water Tank Volume | 18L |
| Efficiency | 98% |
| Size | 410*680*820mm |
| Packing Size | 410*680*1000mm |
| Shipping Weight | 50kg |
3.Security About 6kw Electric  Steam Generator
Products fitted with a safety valve by boiler inspection institute, even in the case where the control system is not flexible, when the pressure exceeds the set pressure, safety valve will open automatically to prevent the boiler explosion due to excessive pressure.
The product is equipped with low water protection, when water supply is stopped, the boiler will automatically stop working, to prevent the boiler dry electric heating element damage and even lead to burnout phenomenon.
The products contains leakage protection, even in the case of a short circuit caused by improper operation of the boiler, the boiler will drain automatically cut off the circuit, timely good control lines.
4.Application of  6kw Electric Steam Generator
Washing ironing industry: dry cleaning machines, dryers, washing machines, dehydration machines, ironing machines, iron, and other equipment supporting the use of.
Food machinery industry: tofu machine, steamer, sterilization tank, packaging machine, paint equipment, sealing machine.
Biochemical industry: fermentation tank, reactor, sandwich pan, mixer, emulsifier and other equipment.
Other industries: (oil, automobile) steam cleaning industry, (hotels, dormitories, schools, mixing stations) hot water supply, (bridges, railways) concrete maintenance, (leisure beauty club) sauna bath, heat exchange equipment.