DZH Biomass fired moving grate boiler is single drum boiler with both water tube and fire tube, the combustion equipment is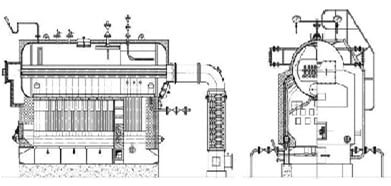 moving grate. Water wall tubes at left and right sides of furnace are the radiated heating area. the two wings at furnace and spirally corrugated tubes in the drum are convection heating area. This biomass fired moving grate boiler uses the upper drum, water wall tube and head are in symmetrical arrangement mode. The furnace structure is in reasonable arrangement to achieve high efficiency.
1.Features Of DZH Biomass Fired Steam Boiler
Moving grate made of cast iron, large furnace design, manual stoker, good applicability of fuel, coal, wood, wood waste, biomass, etc. can be used as fuel for boiler.
Few moving parts, less investment, low operating costs, low maintenance costs.
Forced ventilation, pressure boost fast to make sure enough output.
Boiler is compact structure, easy to install, reducing the cost of the boiler room and installation cost.
Steam boiler is single drum design big water volume, ability to adapt to changes in load.
Sufficient combustion, large heating surface, boiler adopt efficient threaded pipe, so the boiler thermal efficiency higher than the national standard.
2. Technical Data Of DZH Biomass Fired Steam Boiler
Type
DZH0.5
DZH1
DZH2
DZH4
DZH6
Project
Rated Steam Capacity (t/h)
0.5
1
2
4
6
Rated Working Pressure (Mpa)
1.0/1.25/1.65
Rated Steam Temperature (℃)
184/194/204
Feeding Water Temperature (℃)
20
Water Capacity (m³)
2.3
3
4.76
6.6
8.5
Fuel
Biomass pellet , wood ect.
Length(mm)
3675
4316
4945
5853
7600
Width (mm)
2075
2200
2650
2800
2850
Height (mm)
2616
2705
3197
3210
3660
Total Weight (T)
7.8
10
14.5
19.5
26
3. Application Of DZH Bioamss Fired Steam Boiler
DZH Biomass fired steam boiler is widely used for the following industrial production
Textile industry – dyeing machine, drying rooms, high temperature machine, resin setting machine.
Food industry – cooking, drying, vegetable oil refining.
Chemical industry – oil chemistry, polymer industry, reaction tanks, distillation, concentration.
Plastics industry – plastics fired, extruded shape.
Rubber industry – hot press, hot extent, extrusion, vulcanization molding, injection, etc.
Paper industry – drying, corrugated paper processing, calender, glue roller.
Wood industry – hot processing, heat setting.
Hotel – cooking, bathing, laundry, central heating, etc.